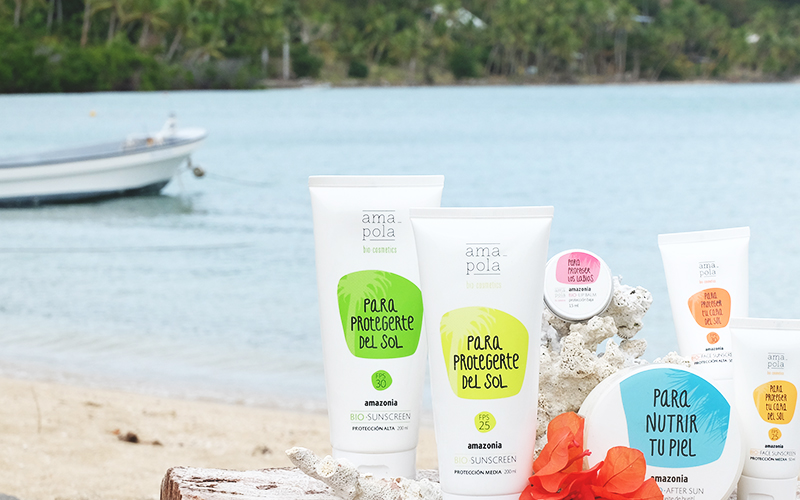 How we identify them and why they are safer for the environment

We can't help but hear through all media news about the contamination of our surroundings and how human activity has permanently affected different ecosystems. In a previous post, we talked about the problem of plastics in marine environments. Another huge problem that affects this ecosystem is sunscreen. We want to shed a little light on this subject and tell you why you should always choose a biodegradable sunscreen.

According to an article published by the Cadena Ser on the 31st of May of this year (you can read it here), "At the beginning of May the Hawaiian government passed a lay that prohibits the sale of products that contain the ingredients oxybenzone and octyl methoxycinnamate, two chemical products usually found in sunscreen, that have significant harmful effects on the marine environment".
Other places like the Rivera Maya have already prohibited the use of these sunscreens.
And closer to us, in our country, specifically in Mallorca, scientists are advertising the chemical contamination that the use of these sunscreens generate in their coasts and how they can harm coral reefs, thanks to the large number of people who use these products and swim in these waters.
But, what is a biodegradable substance and what is a contaminant?

A compound is biodegradable when it can decompose into natural chemical elements through the action of biological agents, such as sun, water, bacteria, plants or animals. Plastic and its derivatives are not biodegradable.
On the contrary, a compound is a contaminant when it alters the natural state of an environment, causing instability, disorder, harm, or poor health, to the physical environment or a living being.
We'll explain what a biodegradable sunscreen is and why it is better for marine ecosystems and for your health.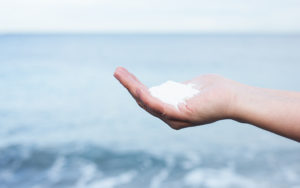 Sunscreen is a cosmetic product that protects your skin against Ultraviolet (UV) rays, through the incorporation of a solar filter in the formula.
There are two group of solar filters, one of which is made though chemical synthesis and appear on the label as cinnamates, benzophenones, or derivatives of benzimidazole. These absorb the solar radiation and cause a change in the chemical structure. They are potent allergens and hormonal disruptors, that is to say, they interfere with the proper hormonal functioning. Additionally, they are harmful to marine ecosystems, coral reefs, fish and aquatic plants, because the chemical filters that are in the sunscreens are not biodegradable.
The other group, physical filters or screens are mineral substances that are found in nature and act as a screen over our skin that reflects the solar rays. These are labeled as Zinc Oxide and Titanium Dioxide.
You can see more details about these in this link, where the reporter Nina Benito, an expert in ecological cosmetics, clearly explains the advantages and disadvantages of these filters.
Only this type of filters is allowed in certified natural cosmetics because they are not harmful to humans or the ecosystem and they offer safer protection.
These are the advantages of natural filters:
Because they are mineral substances, they are not environmental contaminants
They are biodegradable
They have an immediate effect, there is no need to wait for them to become effective as is the case with chemical filters
They are harmless and do not create allergic reactions
Apart from the solar filters, there are other ingredients included in the formula to protect the skin from sunburns, to avoid dehydration, that are strong antioxidants and act to soften the skin, for instance, Aloe Vera (Aloe barbadensis extract), shea butter (butirospermun parkii butter), or avocado oil (persea gartisima oil), among others. Other ingredients that tan the skin while they protect it are wild carrot oil (Daucus carota oil) or buriti oil (Mauritia Flexuosa Fruit oil). All of these natural ingredients are biodegradable and do not negatively affect the environment.
At Amapola we spent years creating biodegradable sunscreens and we bet that by using these natural ingredients in our products will protect your health and the health of the environment.
These are our suggestions for why and how you should use our sunscreens.
CREAM FOR PROTECTION FROM THE SUN SPF 25
For all skin types
It only contains a mineral filter, specifically zinc oxide (because for now titanium oxide hasn't convinced us?), which reflects and disperses solar UVA and UVB rays.
It is fluid and has great coverage and won't be a pain to apply on your children.
It is almost transparent, because the last thing we want is to appear like a geisha.
It is ecological, of course. 61% of the ingredients are ecological, and the rest is filter and other vegetable substances, without any chemical products.
It is biodegradable, so you can be sure of the fact that when you apply it you are not contributing to the destruction of marine ecosystems.
It has a medium protection, which is sufficient to protect the whole family for a day on the beach. We recommend that you reapply every 2 hours because the water, sweat, and rubbing will remove the sunscreen.
It has incredible ingredients, filled with antioxidants and hydrators that will nourish your skin while you tan, because thanks to the buriti oil you can tan without burning.
Ideal for children and babies, because it has great coverage and smells great, and it won't be such a pain to apply it.
CREAM FOR PROTECTION FROM THE SUN SPF 50

If your skin is very pale, you are a redhead, or you are prone to sunspots, don't look further because this is the sunscreen you need. If you aren't like this you can opt for the SPF 25.
THE ADVANTAGES:
It only contains a mineral filter, specifically zinc oxide and titanium dioxide, a strong blend that forms a layer over your skin that will reflect and disperse the solar UVA and UVB rays.
It is fluid and has great coverage, always massage it into the skin (video link) because if you apply it in circular movements the filter won't spread well (?) It leaves your skin well nourished.
Even though it has a protection of 50 SPF if won't leave your skin white, if it is well applied you almost can't notice it.
It is ecological, of course. 90% of the ingredients are ecological, and it is the sunscreen with the most eco ingredients on the market! The rest of the ingredients are the filter and other vegetable substances, without any chemical ingredients.
It is biodegradable, so you can be sure of the fact that when you apply it you are not contributing to the destruction of marine ecosystems.
It has a high level of protection, which is good for protecting your face on a summer day for going to the office, taking a walk on the beach, or running errands. If you are going to be out for a long time, reapply every 3 hours.
It contains ingredients filled with antioxidants and hydrators, like buriti oil, argan oil, and avocado oil, that hydrates and cares for your skin so that the sun doesn't harm it.
It smells incredible, which is what I like the best. It has a light, fresh scent, is long-lasting, and a delight to apply, not a pain.
Invest in safe protection for you and the environment. Invest in ecological cosmetics.