Our skin is the largest organ of absorption in our bodies and it consumes substances that it converts into raw materials to renew the fabric or throw away potential toxins. At Amapola, we have created masks that really nourish your skin and supply all of the food your skin needs.
We present three masks based on the nutritional properties of three superfoods:
Spirulina, an excellent detoxifier and cleaner
Chia, calming and renewing for skin cells
Moringa Oil, an antioxidant and revitalizing for your skin
WHAT DOES OUR SKIN EAT?
The skin is our body's biggest organ, taking up about 1.5 square meters and covering every centimeter of our organism, protecting us from heat, cold, water, and more.
The skin absorbs many substances but also excretes products that our body produces, like sweat. In the skin, there are sweat glands, oil glands, sensory and temperature receptors… in summary, the functions are fundamental to maintain the health of our body.
Even though we receive much of our nutrition orally, our skin also consumes nutrients, and just as we chew and swallow our food and digest it in our stomachs before it is absorbed into our bodies, a small amount of the cosmetics that we apply on our skin enters our body and affects us almost as if we had ingested them.
The health of our skin depends on the blood that feeds it and the health of our blood is determined by the foods that one eats.
Because of this, we must think of cosmetics as food, and if it isn't something you should eat, you shouldn't apply it to your skin. The is the standard that helps us determine if something is pure and natural.
The foods present in our kitchens are excellent raw materials to produce healthy cosmetics. Cosmetics that can renew the skin and provide all of the necessary nutrients. With mango, coconut, bananas, enriched with spirulina, moringa or chia, we can prepare a nutritious smoothie at the same time we apply a mask with these same ingredients.
To Apply the Masks
The masks should be applied over a clean surface, and it is better if you have exfoliated before.
If you have oily or mixed skin, we recommend that you use the Coconut and Lime Exfoliant. If your skin is dry or sensitive, use the Grape and Olive Exfoliant.
You are now ready to put on the mask.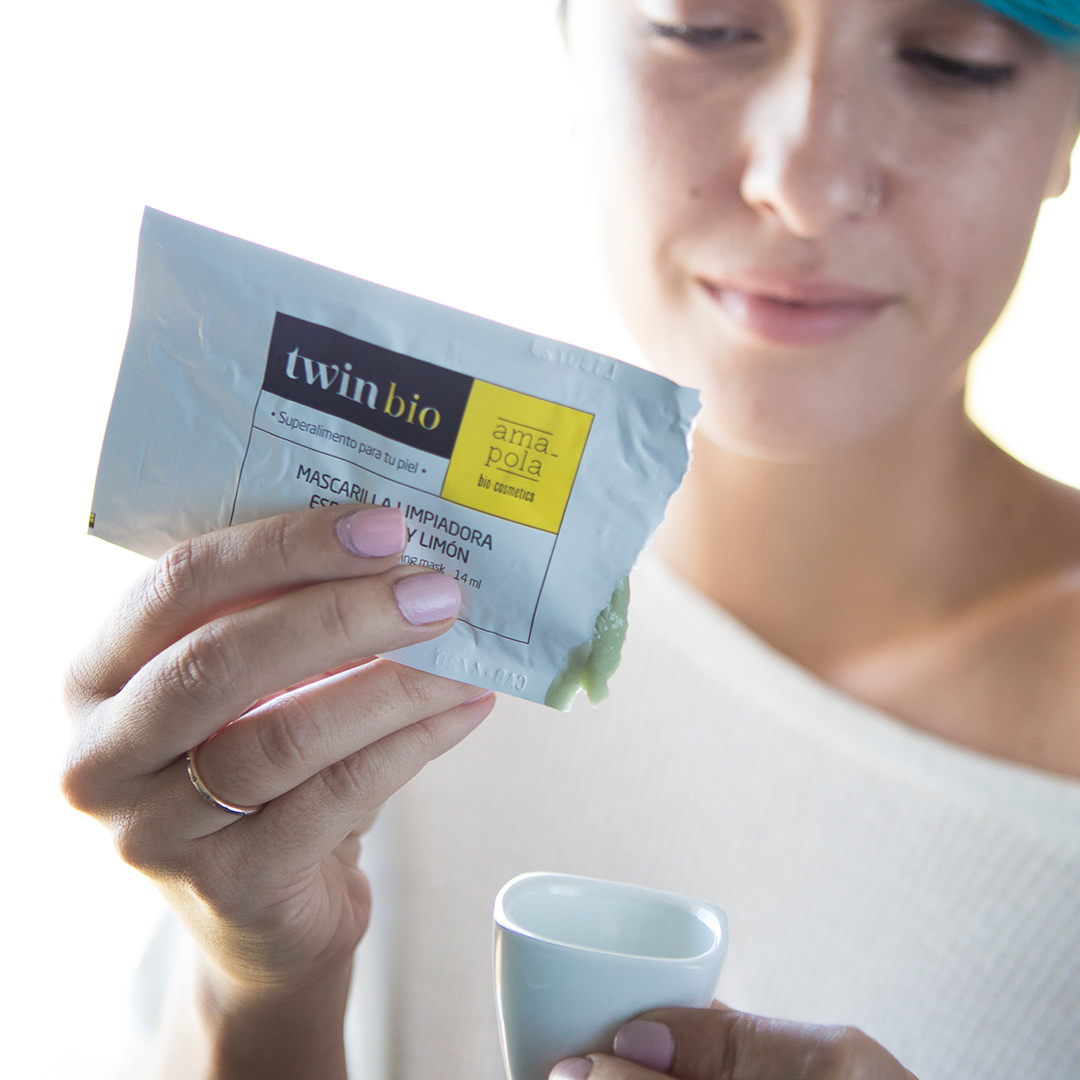 ---
If you need to de-toxify your skin, this is the best option. First, exfoliate well and then enjoy this gel mask that will not leave you indifferent. The super detoxifying power of spirulina and lemon will leave your skin more than clean, it will be super clean.
It contains:
Spirulina, a microscopic algae that has an intense green color because of its high chlorophyll content. It can detoxify the skin because of its ability to capture toxic substances and eliminate them.
Hazelnut oil, that regulates and balances the production of oils in the skin and calms breakouts and redness caused by pimples.
Lemon essential oil, that gives the mask a fresh scent, is slightly stringent, and helps the pores close after the treatment.
BEAUTY TIPS:
We recommend that people with oily or mixed skin use this mask, or when your skin, for whatever reason, is congested or oily. Apply once to regulate the secretion of oil and leave your skin feeling fresh.
---
MASCARILLA DE ARCILLA ROSA Y CHIA
Calming is the perfect adjective to describe this mask. It has a soft and refreshing texture to alleviate congestion and redness. With oil from argan, sesame, chia seeds, and avocado, it will provide all of the nutrients that your tired skin needs. The result: Skin like velvet.
It contains:
Rose clay, that has a detoxifying effect and gentle cleaning properties. It is calming and diminishes signs of irritation on your skin, regenerates the elasticity, restores vitality and increases the strength of your skin.
Chia oil, a small seed that from Mexico that the Aztecs and Mayans used, is a luxury. The oil calms the sensations of itching and irritation on dry or sensitive skin and restores the barrier of the skin.
Cupuaçu butter, improves hydration levels of the skin, prevents the appearance of wrinkles and has an anti-inflammatory and calming effect.
BEAUTY TIPS:
I love this mask. I use it the all the time for my very sensitive skin. After I used it I noticed that my skin was firmer and fuller, and the redness had disappeared, and it had an incredible softness. Ideally, it should be used once a week.
---
This is one of our best formulas to repair dry skin. A nourishing mask with moringa oil, it is a superfood rich in Vitamin A and acidic essential oils that restores firmness and elasticity in your skin.
It Contains:
White Clay, a very soft clay that is idea for dry and mature skin. It doesn't dry out the skin and it eliminates dead cells on the surface. It detoxifies and helps to diminish signs of inflammation and redness.
Moringa oil, which is rich in Vitamin A and phytosterols. It promotes hydration and regulates oil secretion. It is a tremendous emollient, it restores elasticity, and reduces wrinkles.
Cupuaçu butter, which improves hydration levels in your skin, prevents the appearance of wrinkles, and has an anti-inflammatory and calming effect.
BEAUTY TIPS:
I save this mask for when I have an important event or a special day. I do my full treatment the day before, including a gentle exfoliation, and it is incredible how soft it leaves my skin. Try it, it will not disappoint.
THE 6 ADVANTAGES OF TWINCOSMETICS
1
Increases the efficiency
of external beauty treatments
4
Slows down
premature ageing
2
The product produces
an immediate effect
after application
5
Improves health
and makes us
more lively
3
Nourishes and repairs
skin from the
inside out
6
Allows us to see
great results in a
short amount of time