In 2010, Amapola Bio became the first company to be certified by the recently created Spanish seal of BIOINSPECTA-VidaSana. It has been nine years and today we are very proud to be part of the advisory committee to form standards and receive the seal EcoPlus which only the most ecological brands receive. We'll tell you now how we walked this path.
Since AMAPOLA opened its doors in 2004, the market for natural and ecological cosmetics has evolved and continues to transform today.
When we started to commercialize our products, specialty stores for ecological products didn't exist, and of course there were no standards for certification in Spain.
It was a little later when the association VidaSana started to propel a suitable standard to certify natural and ecological cosmetics, with the intention of giving small factories that had started to manufacture healthy cosmetics coverage.
From then until today many things have happened, the standard has been created and has evolved, and presently, there are more than 130 brands of natural cosmetics that have been certified under this seal, and the standard is recognized at an international level.
WHY DID WE SELECT THIS SEAL OF CERTIFICATION?
Among the standards and regulations that exist in this market, that are more or less demanding but with a few important differences, we chose to become certified by the standard of BIO-VIDASANA. See all the seals of certification.
We had various reasons for choosing this:
It is a thorough Spanish standard created by very qualified personal belonging to the association VidaSana, a non-profit organization that has driven the ecological sector in Spain for almost 30 years. Therefore, it is independent and does not respond to the interests of the market.
It is based on other standards that already exist, for instance, NaTrue, an American standard that is recognized all around the world and one of the most demanding with their ecological requirements.
It is precisely for these thorough standards that we chose to use this standard and ensure that our products fit perfectly with these standards before they are certified.
Additionally we are thinking of small producers, with small-scale productions, who care greatly for their product and work from the heart, not from interest in economic gain.
This standard also guarantees:
The absence of dangerous chemical substances, derived from petroleum, with synthetic scents, chemical filters, and many more prohibited substances.
The standard is designed to achieve the greatest possible use of ecological and/or simply natural ingredients and to reduce environmental impact during the manufacturing of raw materials and cosmetic products, in order to benefit human health.
Additionally, all the products certified by this standard can not be made with radiation, tested on animals, should not contain genetically modified ingredients or ingredients manufactured with genetically modified ingredients, or produced with contaminants or hurt the environment.
The products certified by this standard are divided into three categories based on the percentage of ingredients with an ecological or natural origin, and the type of ingredients that the product contains:
 Category I: At least 90% of the ingredients are of ecological origin.
 Category II: The product contains natural ingredients, of which a certain percentage are certified as ecological.
 Category III: The product is made from a base of natural ingredients, but does not contain ecologically certified ingredients.
But…What are the rest of the ingredients that aren't ecological?
There are ingredients that aren't can't be certified, like mineral substances, emulsifiers, or preservatives. In reality, the only ingredients that can be certified are vegetable ingredients derived from an ecological cultivation like vegetable oils, essential oils, or plant extracts.
Therefore, the rest of the ingredients that aren't ecological, which is to say, that don't appear on the label with a *, are non-vegetable ingredients that are non-certifiable and that appear on the list of ingredients permitted by the certifying agency.
Before using any new ingredients, it must be tested by the certifying agency, who has a committee that specializes in ingredients and are in charge of deciding which ingredients are fit for use or which are not.
Every new product to be put on the market must be tested by the certifying agency, who are also in charge of determining the percentage of ecological ingredients in the formula, the category of certification, and approving the label of the product.
Now you can see that when a new product is certified, it must meet an exhaustive list of requirements and this guarantees the ecological quality of the product.
PACKAGING AND LABELING
All of our packaging is approved by the seal of certification Cosmos, and are also controlled by our certifying agency. They are recyclable and many can be reused (read more…) Some of them are even made from plastic gathered from the ocean.
On the product label, you can find the seals of certification. On the list of ingredients, those marked with a * are of ecological origin, and those with two ** are allergens derived from essential oils that must be indicated on the label.
Additionally, the label indicates the exact percentage of ecological ingredients present in the product, the preferred use-by date, the production batch, and if the product is vegan or not.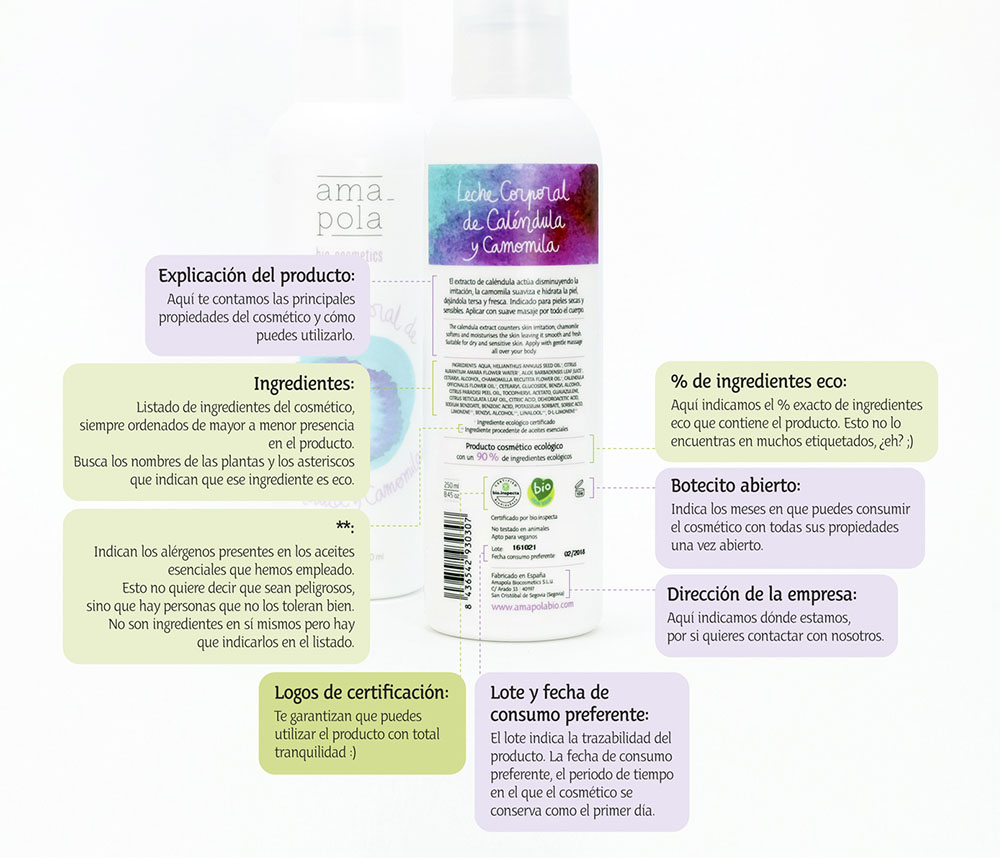 WHAT IS THE ECOPLUS SEAL?
The EcoPlus seal is an extra award for companies that:
Only produce certified ecological and natural cosmetics, and do not carry a line of conventional products or products that aren't certified.
More than 80% of their products are certified in Category I, in which their products are comprised of at least 90% natural ingredients .
At AMAPOLA, we produce about 80 different ecological products, and around 64 of these products are certified within Category I, as an ecological product that contains at least 90% ecological ingredients.
You can see the complete label of our  Marigold serum as an example of a product of our brand and how we indicate the ecological ingredients on it.
It has been a great effort to meet the standards of the EcoPlus Seal of excellence and we are very proud to continue on this path of honesty that is consistent with our own convictions.