Skin needs to be renewed, and why not help it with natural exfoliants based on the power of superfoods?
Coconut, lime, grapes, raspberry, and olive is what you will find in our new TWINBIO line. We present two facial exfoliants and one body exfoliant, created with soft, fresh, and delicious ingredients.
Sometimes we note that our skin is lifeless, weak and without shine, unhealthy and rough to the touch. It's time for an exfoliation.
Exfoliation is a process that eliminates dead skin cells on the surface and allows better absorption of nutrients.
If you want the cosmetics that you apply to your skin to work like they're supposed to, exfoliation is necessary.
Skin renews itself every 3 to 4 weeks naturally. The uppermost layer, the epidermis, is composed of various flattened cells, known as corneocytes. These cells migrate to the surface of the skin and keratinize, until they appear as dead cells that flake off.
As we age this process slows, and it can stretch to take up to 90 days.
The process occurs naturally, but when we find this top layer of dead cells all over our skin, our skin appears weak, dull, and rough.
By using a suitable exfoliant we can speed up the process of eliminating these dead cells.
We should include the extra step of exfoliation into our cosmetic routine and apply it regularly, depending on the type of skin we have and the exfoliant we use.
Here are 8 benefits of exfoliation:
Promotes cellular regeneration
Increases the permeability of the skin so cosmetics that we apply can be better absorbed
Increases the oxygenation of skin cells
Increases the natural peeling process
Frees the skin of deeply embedded dirt
Stimulates local blood microcirculation
Alleviates small wrinkles and expression lines
Leaves the skin softer and smoother
THE IDEAL EXFOLIANT FOR YOU
But we shouldn't use just any exfoliant. From now on we are going to discard any that contain microplastics that contaminate the environment and choose an exfoliant made from vegetable substances that provides us with natural exfoliation according to the sensitivity of our skin.
The level of exfoliation is determined by the size of the exfoliant particle and we should choose one that will work for our skin type.
For stronger skin, with a thicker outer layer, normal or oily skin types, choose an exfoliant with a large particle. And on the other hand, for fine or delicate skin, sensitive or dry skin types, choose an exfoliant with a very small particle, that can softly caress the skin without irritating it.
HOW AND WHEN SHOULD I EXFOLIATE?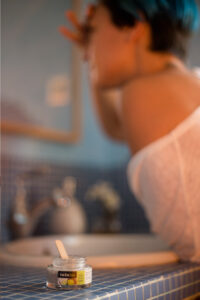 The frequency, as you already know, should depend on your skin type, and here are some approximate times:
Oily or greasy skin: 1-2 times per week
Normal or mixed skin (young people): Once per week
Dry or dehydrated skin: Once every 2 weeks
Fine or sensitive skin: Once per month
We can help you choose the best exfoliants for your skin:
---
COCONUT AND LIME FACIAL EXFOLIANT
We made this gel exfoliant from the husk of a coconut and lime essential oil for a refreshing and renewing experience. It is ideal for oily or mixed skin that puts up with everything.
Contains:
Coconut husk, a particle that is large enough for a good exfoliation without irritating the skin
Lime essential oil, slightly astringent that will refresh and purify skin that is usually greasy. Ahh…and what a divine scent!
Jojoba oil that will eliminate peeling and allow the exfoliant to permeate your skin without irritating it and support the nutrition without a trace of grease
BEAUTY TIP:
I love the feel and thickness of this exfoliant that works perfectly for my skin, and sometimes if I want a better exfoliation, I add a pinch of the apricot exfoliant.
---
GRAPE AND OLIVE FACIAL EXFOLIANT
If your skin is one that gets irritated by anything you must try this exfoliant. It is so soft and buttery that it nourishes your skin while at the same time, it exfoliates it. Extra fine olive pits, grape seed oil and cacao butter hide behind this irresistible formula.
Contains:
Olive pits, when you rub these fine olive pit particles on your skin, you will notice a light exfoliation that caresses your skin instead of irritating it.
Grape seed oil, that prevents the appearance of wrinkles and balances the loss of water, while at the same time, softens and nourishes
Cacao butter, gives the exfoliant its irresistible smell and softly permeates the skin without irritating it
BEAUTY TIP:
Even though my skin isn't very fine or delicate, I love to use this every once in awhile to enjoy the delicious smell and notice that my skin is profoundly nourished. I couldn't need more after that.
---
RASPBERRY AND SPEARMINT BODY EXFOLIANT
The all-terrain exfoliant, with a gel texture, will be a delight for your stressed-out skin. Raspberry oil to nourish, apricot pit to eliminate dead skin cells and spearmint for a refreshing touch. Doesn't that sound like a great idea?
Contains:
Apricot exfoliant, when you rub the apricot pit particles over your skin you will notice a firm and thorough exfoliation, that will ensure that all of the dead skin cells will disappear and leave your skin feeling very soft.
Raspberry oil, which will exfoliate and nourish your skin at the same time. With its antioxidant action it slows the aging process of your skin, diminishes inflammation and protects against rapid climate changes.
Spearmint Essential Oil, with its intriguing scent, is stimulating and calms burning sensations.
BEAUTY TIPS:
I use this at least once a week for my whole body while I'm in the shower. It leaves my skin soft and luminous, ideal for showing off beautiful legs in summer.
THE 6 ADVANTAGES OF USING TWINCOSMETICS
1
Increases efficiency
of external beauty treatments
4
Slows down
premature aging
2
Offers an immediate
effect after applying
the cosmetic product
5
Betters our health and
makes us more lively
3
Nourishes and repairs
our skin from
the inside out
6
Allows us to see
great results in
a short amount of time