Why use natural, ecological cosmetics if you worry about your health and the consequences of climate change?
Surely you are here because you want to contribute to the care of the environment. Because you have decided to live a healthier life for you and for the planet.
When health is your priority, you carry it out in all areas of your life, including the environment; and even more so when you know that the causes of climate change can have a great impact on your health and that things could be done differently.
Because, who doesn't remember going to buy bread with a fabric bag? Going with the milk jug to the market or to the farm of a neighbor for a liter of milk? Or buying everything, fruit, legumes, and vegetables, by weight?
We are sure that if you were born in the sixties or seventies it won't be too difficult to imagine a life without plastics. They were the golden years of lunch boxes and patches, when bottled water was barely consumed and practically all bottles were returnable.
You have a great power to combat the causes of climate change: use it.
As consumers, we can decide where our money goes, and with it, the type of consumption that we support. This freedom to decide is a privilege; not everyone can do this.
Those of us that can choose have in our hands the power to do our small part to collaborate for the protection of the environment.
And we want to be honest: we are tired of seeing how many people excuse or discourage others who are leading a more sustainable life before even trying. Because how many times have you heard what little we can do?
At Amapola, we are of the opinion that every little bit counts. Because of this, we hope that you never fail to trust in what you can do and what is within your reach. We have a few ideas here:
Look for inspiration in magazines and the internet to discover new ways to style the clothes that you already have in your closet.
Resolve to completely use up all of your cosmetic, hygiene, and personal care products that you already have in your bathroom.
As much as possible, drink tap water. You will save a few hundred euros per year.
The cosmetic products you elect to use, as well as the fabrication of the products, has a huge impact on the causes of climate change and your health.
As manufactures of natural, ecological cosmetics, we know that the bathroom, in general, is one of the places in which, generally, we accumulate the most products with plastics that can be damaging to our health.
But, did you know that it isn't just the containers that affect the environment and your health? It also has to do with the choice of products and the manufacturing process? There are many studies that support this; some even refer to una amenaza tanto para el entorno como para nuestra salud más silenciosa si cabe: los microplásticos.
On all labels of cosmetic, hygiene, and personal care products where you read nylon-12, polycrylene, PTFE, polyethylene (PE), polymethyl methacrylate (PMMA), polyethylene terephthalate (PET) or polypropylene (PP), you will find microplastics.
These substances pass to our residual water, but they are so miniscule that they don't get filtered out in the treatment plants and end up in the sea, and, indirectly (through water filtration) or directly (ingesting and application), they can end up in our body. And their name – microplastics – is very illustrative of what they are.
With respect to natural cosmetics products and their containers, at Amapola we are aware of them and know that there is no real alternative to plastic materials.
The sale of products in bulk – such as already being done with food and home cleaning products – is inconceivable for cosmetic products. The law demands that cosmetics are packaged and labeled in authorized facilities to avoid microbiological contaminants that could affect the health of the consumer.
Nor do we believe that substituting one material for the other is the solution. But we do believe in constructing your own criteria and making decisions that are increasingly based on your health and that of the environment.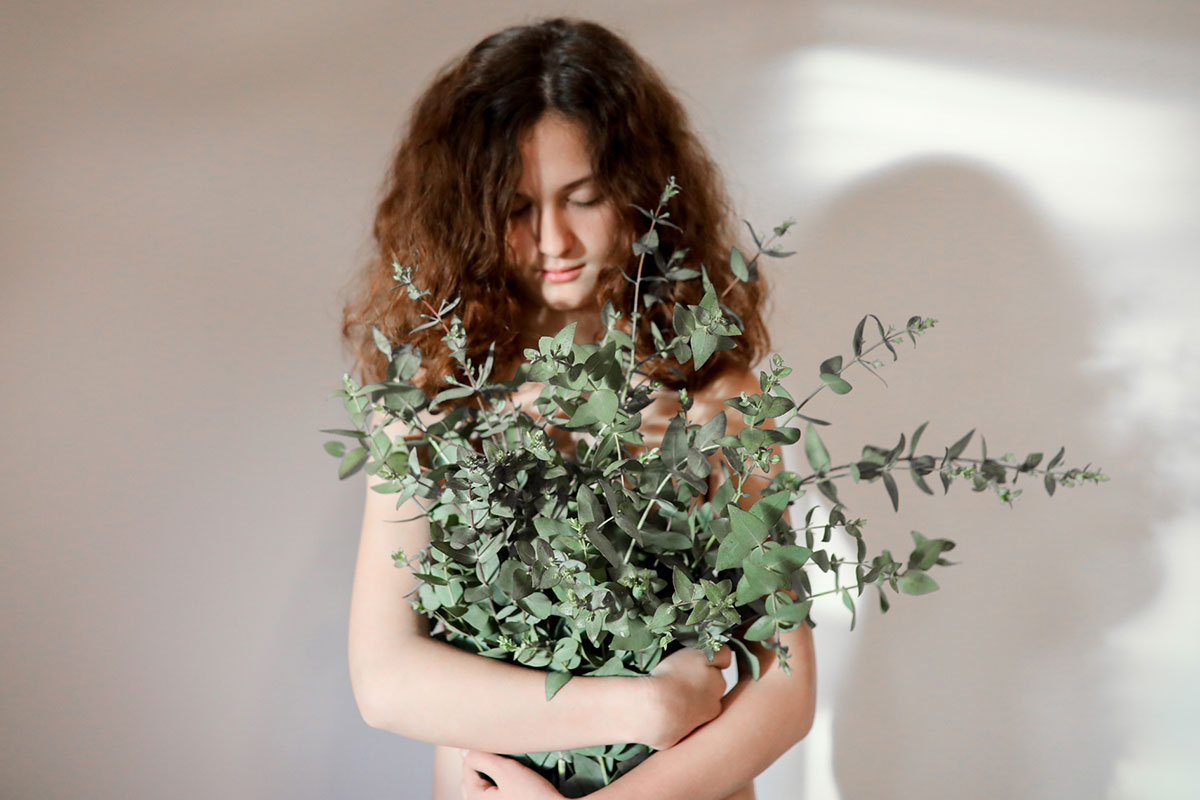 Dress your skin, strip your cosmetics, with Amapola Bio
If you want to help the environment doing things in a respectful way, natural, ecological cosmetics free from toxics will give you the security of being in position for an optimal state of present and future health, for you and the planet.
At Amapola we want you to dress your skin with plants, vegetable oils, essential oils, and strip your cosmetics of toxic chemicals and unnecessary plastics. You will contribute to bettering your health and the health of the planet.
Your skin is your wrapping: the wrapping paper that covers you and protects you from outside agents. Additionally, it is a selective barrier of informational exchange between your organism and the exterior.
Have you thought at some point that what you put on your skin ends up going through the epidermis and ending up in your organism?
Even though it can be hard to believe, the substances you choose to put on your skin is very important for your health. Because depending on the products you use, you will be feeding and nourishing your skin or favoring the accumulation of toxins in your body.
When you use ecological cosmetics, you are feeding your skin. You are dressing yourself with the best ingredients to protect yourself from the sun, the cold, dehydration and external contamination.
3 harmless ingredients for the environment that are essential to care for and dress your skin
Bio vegetable oils from the first press: these are like the organic cotton of a good basic t-shirt in your closet. And they are the base of our formulas. Bio vegetable oils:

Combat premature aging of the skin because they are rich in carotenes and polyphenols that work as antioxidants and neutralize free radicals;
Contain essential fatty acids for the formation and maintaining of skin tissue that protects you from the sun, external aggressors and skin diseases;
Safeguard your health by supporting the necessary vitamins and minerals for the correct functioning of biochemical processes.
Bio medicinal plants: plants are like our Spandex, the formula fits like a glove to the necessities of your skin. Plants support substances that:

Calm irritation and redness, and decongests the skin;
Protects from contaminants that we are exposed to every day;
Detoxify the skin, making it more luminous.
Aceites esenciales bío: are the details, the complements that make your own style. We treat aromatic substances so that they help:

Stimulate regenerative activity in your cells, and therefore, show off a younger skin;
Unify the tone of your skin and regulate the secretion of grease, among other benefits;
Balance your hormonal system to maintain a nourished and hydrated skin.
If something stands out from Amapola to our clients, it is our promise to humanity and the environment. We feel very fortunate and grateful to have this support.
We are firm defendants of the belief that when it comes to sustainability, every little bit counts. And we believe that improvement is on the way.
That is why we want you to know a little more about our path:
100% of our ingredients are biodegradable. All our ingredients are of vegetable or mineral origin and are biodegradable, so even if they end up in the environment, they won't leave a trace.
We are minimizing the unnecessary use of containers and packaging. If we don't need a box to hold a product already in a container, we won't use it.
We are always giving priority to packaging that will be biodegradable, reusable, or recyclable. They could be recycled or recyclable paper or cardboard, glass containers that we can reuse, or recycled plastic containers.
We are investing a part of our profits into projects for the recovery of ecosystems. We habitually collaborate with Greenpeace, Sustainable Forests, and other organizations that look out for the care of the environment.
Continued innovation and learning are two of our principle values. We want to give solutions to replace or minimize the environmental impact of the plastic containers we use. Because of this, we stay up to date on new materials and new forms of recycling that could show up and allow us to diminish the impact that our habits have on the planet.
32% of our containers are reusable glass or are recyclable.
Our soaps are wrapped in wax paper that is easily recyclable. This is one of the improvements we have introduced recently, and we are proud of it.
This year, we have started to use plastic containers made from plastics that are recovered from the ocean. In this way, we are promoting cleaning the huge quantity of plastics that float in the ocean to diminish marine contamination. And, on the other hand, we are giving a second life to a material that, left alone, would make up a residual contaminant.
Our production process does not contaminate. We manufacture all our products in a net-zero energy building, and the electric energy used in the fabrication process comes from renewable energy sources.
Additionally, we will gift you a soap for every 5 glass containers, from our facial creams, that you bring to one of our stores. In this way, you will give more than one use to this container and generate less waste.