Eucalyptus Essential Oil - Ecological Cosmetics

No tax
 Last items in stock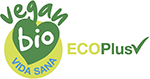 I don't know about you, but I have horrible memories of eucalyptus steams enforced on me by my mother to treat childhood colds. They were very effective, but they really burned, didn't they?
Back then, it wasn't easy to get eucalyptus essential oil, but nowadays, it is. So, it's goodbye to steams and hello to essential oil.
12ml.

Organic essential oil
The aroma is intense and penetrating. It's one of those where you have to be careful about how much you use and not get carried away. If you have high blood pressure or epilepsy then you should avoid it. Use in very small doses for children.
It acts quickly on the respiratory system, clearing the nose and reducing catarrh. On the skin, it helps with cold sores and burns.
En este producto hemos utilizado los siguientes ingredientes:
EUCALIPTUS GLOBULUS OIL*, LIMONENE**.
* Ingrediente ecológico certificado.
**Ingrediente derivado de los aceites esenciales.
Producto cosmético 100% ecológico.
Certificado por BIO.INSPECTA-VIDA SANA