Geranium Essential Oil - Ecological Cosmetics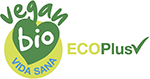 Geranium essential oil comes from the flowers. It's a tonic for the nervous system, reducing anxiety and improving mood, which makes it ideal on days when you can't even put up with yourself.
12ml.
Anti-aging essential oil
The geranium is sweet and intense. Either you love it or hate it. There's no middle ground.
On the skin, it regulates oil secretion from the sebaceous glands, which are responsible for flexibility and improving microcirculation. It's ideal for sensitive clogged-up skin because it stimulates the lymphatic system, which helps to eliminate toxins and return the skin's natural glow.
It's also an insect repellent, just in case you need one this summer.
En este producto hemos utilizado los siguientes ingredientes:
INGREDIENTES INCI:
PELARGONIUM GRAVEOLENS OIL, GERANIOL**, LINALOOL**, LIMONENE**.
* Ingrediente ecológico certificado.
**Ingrediente derivado de los aceites esenciales.

Certificado por BIO.INSPECTA-VIDA SANA