ORGANIC DEODORANT Citric fresh - Ecological Cosmetics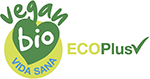 Petitgrain, grapefruit and red mandarin. Doesn't that sound temptingly refreshing? This solid deodorant (a vegan balm) doesn't just smell amazing. It protects you all day long without blocking your pores or irritating your skin. And it's plastic-free. Give it a try!

We decided to expand our range of deodorants for two reasons:
      

We wanted to create a solid, vegan, plastic-free deodorant.

      

You asked us to expand our range, as we only offered our tea tree essential oil deodorant.
After plenty of tests, tweaking ingredients, adjusting percentages and trying different mixes of essential oils we found what is (in our opinion) the best formula for a 100% organic, alcohol-free solid deodorant. This is why:
-        This solid balm is very easy to use, doesn't contain any water and is concentrated, which means you get lasting protection from just a small amount of deodorant.   
-        It contains coconut oil and bicarbonate of soda, its main deodorizing ingredients. They both act to neutralize the bad odours caused by the bacteria that breaks down your sweat. Just be aware that they don't block your pores and therefore allow your skin to transpire.
-        Hemp oil and calendula oil act by calming irritation and nourishing delicate underarm skin, so you don't have to worry about the redness or itching that other deodorants cause.
-        It's vegan and cruelty-free, with absolutely no ingredients of animal origin or chemicals. We know you feel the same way we do about animal testing, so you can be sure this product meets your standards. 
-        We offer 4 different varieties, with scents you'll love. The woody scent is for you if you want something understated, the floral scent is perfect if you're a romantic, and the citric scent is ideal if you're bursting with energy in the mornings. We also offer a scent-free deodorant.
-        It's not only what's in it, but also what's not: it contains no alcohol or aluminium salts which block your pores and stop you from sweating.
-        It comes in two sizes: 15 grams, a small amount to keep in your bag so you're always protected, and 60 grams, to keep at home and use every single day.
-        And it's plastic-free. We're particularly careful to be respectful of the environment and not create any unnecessary waste.
INGREDIENTES INCI:


COCOS NUCIFERA OIL*, SODIUM BICARBONATE, ZEA MAYS STARCH*, BUTYROSPERMUM PARKII BUTTER*, HELIANTHUS ANNUUS SEED OIL*, EUPHORBIA CERIFERA WAX*, CANNABIS SATIVA SEED OIL*,  CITRUS AURANTIFOLIA PEEL OIL*, CITRUS LIMON FLOWER/LEAF/STEM OIL, TOCOPHEROL, CITRUS PARADISI PEEL OIL, CALÉNDULA OFFICINALIS FLOWER OIL*, LIMONENE**, CITRAL**.


* Ingrediente de cultivo ecológico.
**Ingrediente procedente de los aceites esenciales.
Producto cosmético ecológico con un 97% de ingredientes ecológicos.
Certificado por BIO.INSPECTA-VIDA SANA