SANITIZING LOTION - Ecological Cosmetics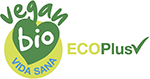 Envió gratis a partir de 40 €
Fabricación Española
10% DTO pedidos > 100 € | Cupón: amapola100
This sanitizing and cleansing lotion with organic alcohol and lavender essential oil keeps your hands clean, disinfected and free of dangerous germs.
Throughout the day, our hands touch surfaces, objects, other hands... Up until recently, this never bothered anyone too much. But now we have to be more careful.
This hydroalcoholic lotion (70% ethanol) contains lavender essential oil and glycerine so your hands don't dry out.
We use natural, undenatured organic alcohol to make this product. The vast majority of sanitizing lotions and gels out there contain denatured alcohol (which appears on the label as alcohol denat). This alcohol is denatured with a variety of bitter substances to prevent it from being used to make alcoholic drinks. This includes diethyl phthalate, which works as a hormone disruptor.
Lavender essential oil is a disinfectant and antiseptic. It doesn't irritate the skin, has a glorious scent and leaves you with a wonderfully clean sensation.