ECOLOGICAL FACIAL SUN PROTECTION FPS 50 - Ecological Cosmetics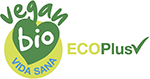 Envió gratis a partir de 40 €
Fabricación Española
-10%DTO. Cupón: amapola100
You requested it and here you have it: a sunscreen with higher protection, which is more fluid and more eco-friendly, as well as being free from nanoparticles! What more could you possibly ask for?
50 ml.
Ecological sun protection
If you have pale skin, you're a red-head or prone to sunspots, look no further, you've finally found the cream you've been looking for.
And here is the reason why:
It contains mineral filters only, more specifically zinc oxide and titanium dioxide, a reliable combination that forms a protective layer on your skin, which reflects and disperses UVA and UVB sunrays.
It's fluid and easy to apply by massaging outwards because if you try to apply with circular movements, the filter won't be spread to the back. It leaves your skin feeling nourished.
In spite of being SPF 50, it won't leave your skin looking white, and you will barely notice it once it has been rubbed in properly, but you do need to rub it in.
It's eco-friendly, of course, made from 90% organic ingredients, it's the sunscreen with the most organic ingredients on the market! The rest of the ingredients are the filter and other vegetable substances, and it's completely chemical free.
It's bio-degradable, so you can apply it guilt-free, as you won't be contributing to the destruction of the marine eco-system.
It has a hight protection, which is good for protecting your face on a summer's day on your way to the office, or taking a walk on the beach or even popping out to buy some bread. For prolonged sun exposure, it is best to re-apply every 3 hours.
It has some incredible ingredients, which are full of anti-oxidants and help keep your skin hydrated, such as Buriti oil, Argan oil or Avocado oil, which will nourish and hydrate your skin and stop it being damaged by the sun.
It's the perfect size to carry with you in your handbag and that way you can re-apply whenever you want.
The incredible smell is what I like the most about it, a fresh, light and long-lasting scent. It feels nice when applying it, and isn't at all heavy on the skin.
Have I managed to convince you? You'll have to try it.
En este producto hemos utilizado los siguientes ingredientes:
INGREDIENTES INCI:
AQUA, ALOE BARBADENSIS LEAF JUICE*, ZINC OXIDE, ARGANIA SPINOSA KERNEL OIL*, PERSEA GRATISSIMA OIL*, BUTIROSPERMUM PARKII BUTTER*, CORYLUS AVELLANA SEED OIL*, GLYCERIN*,TITANIUM DIOXIDE, MAURITIA FLEXULOSA FRUIT OIL*, CETEARYL ALCOHOL , SILICA, BENTONITE, LAVANDULA HYBRIDA OIL*, CITRUS LIMON FLOWER/LEAF/STEM OIL, TOCOPHEROL, CETEARYL GLUSIDE, XANTHAN GUM, CITRIC ACID, SODIUM BENZOATE, POTASSIUM SORBATE, LIMONENE**, LINALOOL**, CITRAL**, GERANIOL**, CITRONELLOL**, COUMARIN**.
* Ingrediente ecológico certificado
** Ingrediente procedente de los aceites esenciales
Producto cosmético con un 90 % de ingredientes ecológicos.
Certificado por BIO.INSPECTA-VIDA SANA