Mint Essential Oil - Ecological Cosmetics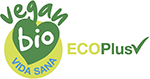 Envió gratis a partir de 40 €
Fabricación Española
10% DTO pedidos > 100 € | Cupón: amapola100
What better than mint to decongest your airways and clear your head?
Its penetrating, incisive aroma flows into your nose and reaches the furthest corners of your airways, where it takes effect.
12ml.
Refreshing Natural Essential Oil
Mint grows near riverbeds. It likes water and needs shade to flourish. It was a popular plant among the ancient Greeks and Romans, who used it in perfumery and to help them recover from their extravagant banquets.
It serves two purposes: it's cooling in the heat, and warming in the cold. When acting on the skin, it removes toxin build-ups and has a refreshing effect.
Please note! Don't use too much because it's very potent. Unsuitable for pregnant women.
En este producto hemos utilizado los siguientes ingredientes:
INGREDIENTES INCI:
MENTHA PULEGIUM OIL*, LIMONENE**.
* Ingrediente ecológico certificado.
**Ingrediente derivado de los aceites esenciales.
Producto cosmético 100% ecológico.
Certificado por BIO.INSPECTA-VIDA SANA