Seaweed Soap - Ecological Cosmetics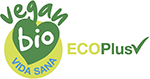 Envió gratis a partir de 40 €
Fabricación Española
10% DTO pedidos mayores 100 € | Cupón: amapola100
Our most summery and refreshing soap. On a hot summer's day, who doesn't like waking up in the morning and taking a cold shower to energise them for the day ahead? Well, if you add seaweed soap into the mix, you'll double the effect.
100gr
Anti-cellulite soap
Its fresh aroma is owing to the penetrating, incisive mint essential oil. It'll pass its optimism and strength on to you, while clearing your airways, which always makes you feel good.
What's more, the centella oil will help firm up your skin.
En este producto hemos utilizado los siguientes ingredientes:

INGREDIENTES INCI:

COCOS NUTIFERA OIL*, AQUA, PRUNUS AMYGDALUS DULCIS OIL, SODIUM HIDROXIDE, MENTHA PIPERITA OIL, FUCUS VESICULOSUS, LIMONENE**, GERANIOL**, AMYLVINYLCARBINYL ACETATE**, COUMARIN**.

* Ingrediente ecológico certificado
** Ingrediente procedente de los aceites esenciales
Producto cosmético con un 62 % de ingredientes ecológicos.
Certificado por BIO.INSPECTA-VIDA SANA