Calendula and Honey Lip Balm - Ecological Cosmetics
How many times have you thought: how can I go out with my lips looking like this? Sometimes, temperature changes or a dry climate can make the delicate skin on your lips dry out and even crack, or worse: you get a cold sore.
We have a delicious remedy for this. Really, you could even put it on your toast for breakfast. It's almost 100% organic and all the ingredients are edible.
15ml
Puntuaciones y opiniones de nuestros clientes
Organic lip balm.
This solid balm is packed with nutrients thanks to ingredients like calendula oil, shea butter, almond oil andavocado. And to sweeten it up, a touch of honey and cinnamon.
The butter prevents dehydration, the almond and avocado nourish, the calendula is calming and the honey regenerates and heals. Not suitable for vegans.
Keep it with you in your handbag. Who could resist a kiss?
En este producto hemos utilizado los siguientes ingredientes:
INGREDIENTES INCI:
PERSEA GRATISIMA OIL*, PRUNUS AMYGDALUS DULCIS OIL*, BUTIROSPERMUN PARKII BUTTER*, BEESWAX*, HELIANTHUS ANNUUS SEED OIL*, MEL*, TOCOPHEROL, CALÉNDULA OFFICINALIS FLOWER OIL*, CINAMOMUM ZEYLANICUM OIL, EUGENOL**, LINALOOL**, BENZYL BENZOATE**, CINNAMIC**, ALDEHYDE**, CINNAMIC ALCOHOL**, LIMONENE**.
* Ingrediente ecológico certificado
** Ingrediente procedente de los aceites esenciales
Con un 99 % de ingredientes ecológicos.
Certificado por BIO.INSPECTA-VIDA SANA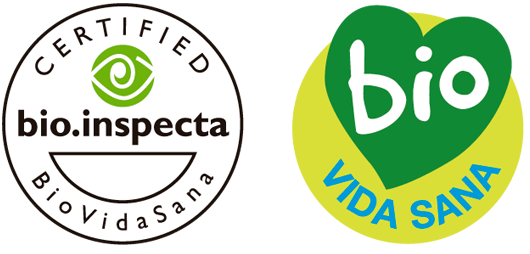 Puntuaciones y opiniones de nuestros clientes
De lo mejorcito en bálsamos que he usado. Además si tienes problemas con el karité (como yo), es una buena opción. Eso sí, es de usar dedito
Es el mejor Bálsamo labial que he probado con diferencia. Incluso, ayuda a cicatrizar pequeñas grietas o irritaciones.
Una maravilla para los labios..se ha convertido en un imprescindible.
No uso otro desde que lo probé. Si tienes los labios muy cortados hay que insistir.
Buen bálsamo para los labios, aunque los míos necesitan estar continuamente hidratando.
Me encanta este producto.
Me encanta el olor y la hidratacion
Es el único bálsamo con el que consigo que mis labios estés hidratados de verdad.